GLO Puffer Jacket Shiny: Sleek, Radiant Armor for Cool Winter Fashion Cool puffer jackets
Rs. 70,000.00

Rs. 70,000.00

Save

Rs. 30,000.00
Tax included. FREE Shipping in 2-7 Days All Over India
New  light up jacket to ensure you'll never lose your mates in the rave again.
The jacket is crafted from optical fibers and is powered by batteries within its internal pockets enabling it to light up .
Such a unique piece Only for those with enough XP for this one
Catch me at the RAVE, how bout dat?
Illuminate Your Winter Wonderland: Puffer Jacket Shiny
Envelop yourself in the warm embrace of our Puffer Jacket Shiny, a stunning fusion of cutting-edge technology and luxurious comfort. This sleek, radiant armor is designed to conquer the winter fashion landscape, transforming the coldest days into a mesmerizing spectacle of light and style.
A Cascade of Brilliance: Fiber Optic Fabric
The secret behind this luminous garment lies in its fiber optic fabric, masterfully interwoven with advanced down jacket material. This innovative combination creates a captivating visual effect, while simultaneously providing the warmth and coziness you expect from a down jacket.
Command Your Radiance: Mobile Phone App Smart Control
Take control of your jacket's glow with a dedicated mobile app (compatible with Android and iOS systems). Choose from a palette of 29 vibrant modes and adjust the light color to match your mood or surroundings. Sync the light to the beat of your music or ambient sounds, creating a personalized, interactive experience.
Preserving the Enchantment: Garment Care
Maintain the magic of your glowing jacket by removing the battery controller before machine washing in water not exceeding 60 degrees Celsius or opting for gentle hand washing. Keep its brilliance intact by avoiding dryers or irons, and allowing it to hang dry.
Boundless Energy: Battery Rechargeable
Powered by a USB rechargeable battery, the Puffer Jacket Shiny ensures 3-15 hours of dazzling illumination on a single charge. Replenish its energy in just 4.5 hours, and let the enchantment continue to unfold with every wear.
Versatility Meets Radiance: Multi-Occasions
Crafted from ultra-soft, lightweight, breathable fabric, this brilliant jacket offers unparalleled comfort for a variety of occasions. Make a statement at raves, parties, discos, hip-hop concerts, fancy dress balls, performances, gatherings, cosplay events, or during a casual stroll on a winter evening.
Embrace the magic of our Puffer Jacket Shiny – a sleek, radiant armor that brings unparalleled style and warmth to your winter wardrobe. Illuminate your world, and let your inner light shine through.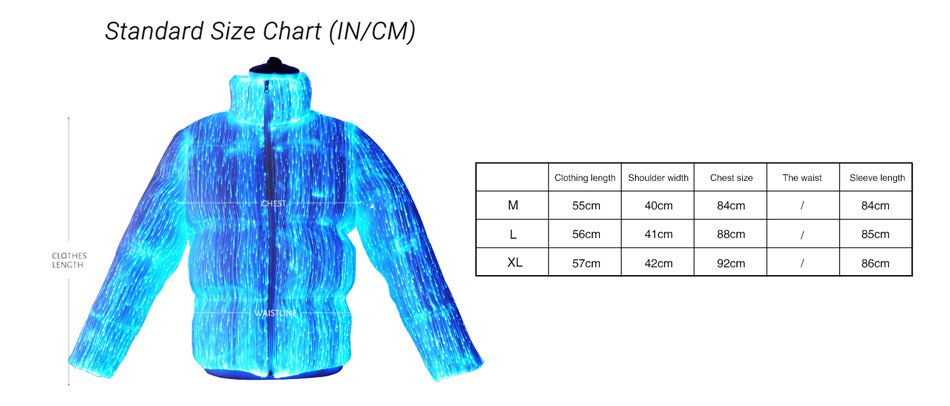 | | |
| --- | --- |
| Size | M, L, XL |
| Color | Black, White |
| Light Color | Red, Green, Blue, Gold, Light Blue, Purple, White |
| Light Mode | Monochrome, Flash, Gradual, Smooth, Polychromatic |
| Light Control | APP Software Control |
| Duration Time | 3-15 hours |
| Charging Time | 3 hours |
| Battery Capacity | 1800 mAh |
| Accessories | 1*APP Battery Box, 1*Operating Manual, 1*USB Cable |
---
---
---
We Also Recommend
---
One year warranty
The best quality materials used to create the perfect sign for you.
Power- efficient
80% less power consumption than traditional glass neon signs..
100% customer satisfaction
Rated with more than 1000+ 5-star reviews from our beloved customers.
Premium quality
The best quality materials used to create the perfect sign for you.
World-class craftsmanship
The best quality materials used to create the perfect sign for you.
Easy customizations
Efficient live preview technology to help you customise your neon sign.
Free + Fast Shipping
Rated with more than 1000+ 5-star reviews from our beloved customers.